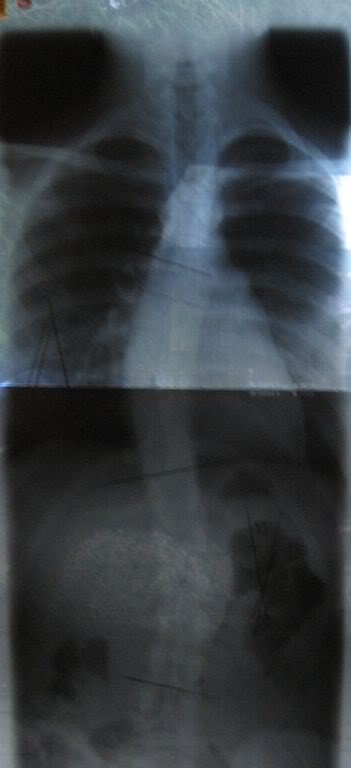 GREAT NEWS for children and adults with scoliosis! Here is the story.
One of my patients, a 12 year old female is  a wonderful, active, young person. She came in yesterday with her Mom and Sister. We have been treating her for scoliosis Since December of 2012.
A Diagnosis is Made
This young person was originally diagnosed with scoliosis by the Twin Cities Spine Center. Her x ray on November 30th,  2012, indicated a 22 degree scoliosis of the thoracic and lumbar vertebrae.
Patient is Evaluated
Shortly after this diagnosis the Mom decided to bring her daughter into our clinic. She was evaluated on December 7th, 2012. Due to positive findings in her evaluation, I determined that it was most likely possible to significantly reduce the degree of scoliosis.
 Treatment Begins
We began treatment with Sacro Occipital Technique and Koren Specific Technique, both chiropractic techniques. Following these therapies I utilized an essential oil blend, designed for spinal support, on the patient's spine. Additionally, I performed Neuro Modulation Technique, a bio energetic technique for other, non-related issues of health.
For spinal correction I also recommended  Essential Oil Raindrop Sessions weekly, and the use of the same spinal blend, used in the clinic, at home, on the daughter's spine and Vita Flex points for the spine on the feet.
From 22 Degrees to 14 Degrees in Four Months
Since beginning care at the clinic she has received FOUR chiropractic treatments not including yesterday's treatment. The family has had time for only FOUR Raindrop sessions over the four months of time, however; but the Mom did use the special spinal essential oil blend and other oils on her daughter's spine and Vita Flex points for the spine, almost daily.
Recently on April 12, 2013, the patient was re-evaluated by the Twin Cities Spine Center. An x ray was taken. Her physician at the center was shocked that her scoliosis had decreased by 36%!  According to the Spine Center physician, he rarely sees improvement at all in a growing child.
The Effectiveness of Chiropractic and Therapeutic Grade Essential Oils
We were so pleased when the Mom shared this news with us yesterday, bringing in the before and after images. There was an incredible improvement. To see it on the film is quite a powerful experience.
It demonstrates the effectiveness of Chiropractic (when the hip line is properly leveled), and therapeutic grade essential oils and Raindrop for scoliosis.
Our Plan
We will continue to do our best to completely resolve the curvature of the spine in this wonderful young person. She also has bilateral pronation of her ankles, influencing bunion development, so we are working with reduction of the challenges in her feet and toes.
Additional Information
Note on the x ray illustration: The x ray I have used to demonstrate scoliosis visually in this post is NOT the x ray of this child. The child's x ray degree of scoliosis started out slightly less than the curvature in this illustration x ray.